Handspun Seamless Wave-Patterned Yoke Sweater
Hi! I'm Adrian from
Hello Yarn
and Elizabeth Zimmermann rocks my world.
In the past, I've knit her
Moccasin Socks
, used her seamless raglan recipe for a
sweater for my husband
, a
sweater for a friend
, and early on, generally borrowed her fearlessness in knitting.
I've already kind of started a sweater for this knit-along. It's a handspun seamless yoke sweater with a simple wave pattern around the yoke and a little edging detail.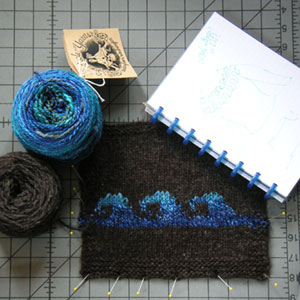 The wave pattern will be two-sided on the sweater, but you get the idea- lovely woolly plain brown yarn for the body and blue multi-colored yarn for the wave and edging. I've got the sleeves done and am already working on the body. :o
I can't wait to see what everyone else is making!