I finished!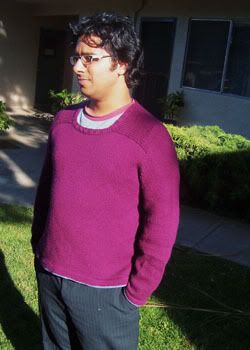 I posted earlier about my progress on my seamless hybrid, which took me basically forever to finish. But finish I did, and my husband now has a lovely new sweater to wear...this summer...in California...um, yeah. Well planned, Kristen. Very stealthy. But the important thing is that I finished, and when the time rolls around that the weather gets cool again, he'll have a lovely wool sweater that actually fits him right.
I am so in love with blocking. Pre blocking, there was a very ugly crease across the chest that looked like pulled stitches, and I couldn't figure out how it had happened. The sweater seemed too short, and the hems seemed likely to curl. Post blocking, I had this perfect looking piece, all the stitches magically evened out, all of the curl gone, and the length was as right as Baby Bear's porridge.
The yarn used is Knitpicks' Telemark, and for the price, this is a good yarn. It even held up to considerable ripping and re-knitting, and it softened marvelously when treated to a bath with baby shampoo. I wouldn't necessarily recommend making a sweater this size (46 inches around) using a sport weight yarn, but I didn't learn a lesson - I've already begun a raglan for the man in fingering weight yarn. This goes only to show that some people are stubborn and resistant to morals.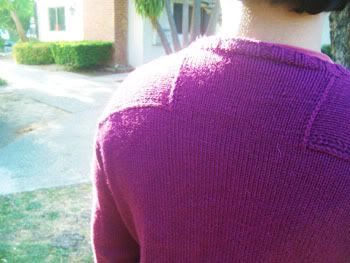 The yarn is less magenta and more staid in real life, but it is a nice purple. I liked seeing a color that I can't usually find in the store. One more picture and a little more info on the
blog
.