My favourite flavour of Pi
It's gloomy as anything outside today, but I can't wait to photograph it any longer:
Pattern: Pi Shawl from
Knitter's Almanac
Yarn:
Fyberspates
hand dyed laceweight - 90% wool, 10% nylon
Modifications: Apart from knitting less rounds in the final section than the original pattern specifies, none! The stitch patterns in each section and the edging are all taken from
Traditional Knitted Lace Shawls
by Martha Waterman, which I really recommend as a source of a good selection of stitch patterns that fit easily into the shawl without having to alter stitch counts!
This is possibly the most beautiful thing I've ever knitted. It was so worth the hours spent knitting the edging which I thought would never be done. EZ has created a fantastic recipe for a shawl that can be as difficult or as easy as you want it to be. Me, I chose easy! I think the delicate yarn and pointy edge - 144 points! - helped to make it something a bit special, though.
Some more closeups: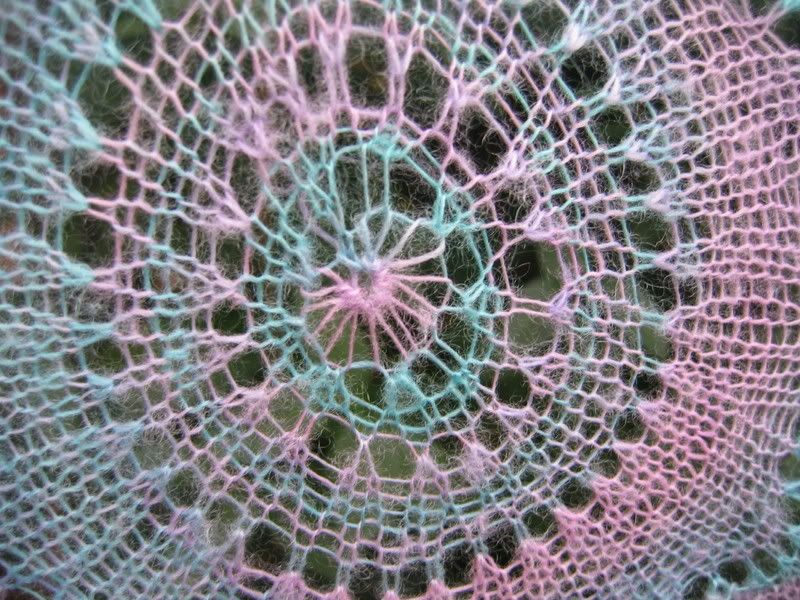 And the whole thing:
This is going to be so hard to give away as a present, but if my MIL doesn't like it, I won't have any hesitation in taking it right back. :-)