Finished Object- Handspun Wave Yoke Sweater
Some details: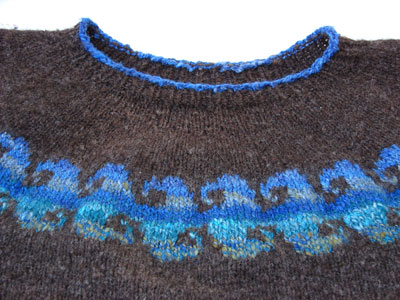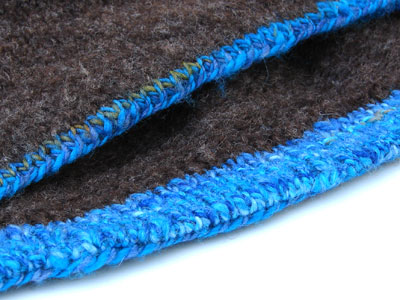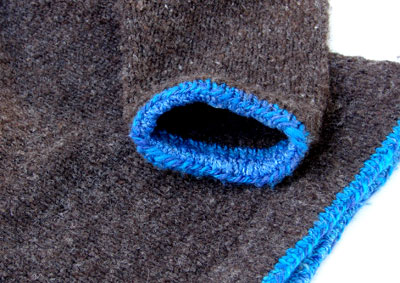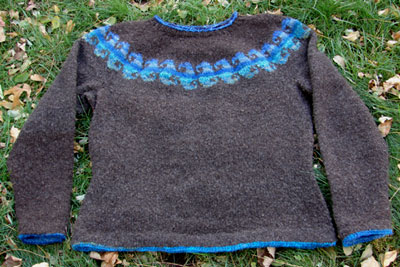 *sheep-approved*
The Facts:Yarn:
about 3 oz. of superwash Merino two ply from
Spincycle Yarns
and about 11 oz. of handspun natural brown 2 ply mystery wool, both DK-ish weight
Pattern:
Elizabeth Zimmermann's Seamless Yoke Sweater, as found in
Knitting Without Tears
, with waist shaping added
Wave Chart:
Here you go.
Needles:
Size 7 Addi Turbo for magic loop
Gauge:
4.75 sts. per inch
Size:
42" bust (2" of ease)
Started:
Not including planning, about Sept. 20, 2006
Finished:
October 19, 2006
Thoughts:
This was a simple pleasure to knit. All the fun is in the yarn. The colors in the blue yarn entertained me without pause, and the brown woolly stuff was a total tactile pleasure. It's not baby soft and it's not harsh. It's just right.
The pattern is is about as clean as they come. Cast on in blue, knit a row, then switch to brown and knit in tubes up to the armpits, join together, and decrease to the neck. I decreased pairs of stitches at each side for the waist, then increased at the same rate, resulting in the same stitch count as the beginning. After all the ends were woven in, I went back and picked up from the back of the cast-on edges for the hems in blue, switching back to brown for the final rows. I then tacked down each individual stitch to the inside of the sweater. This took
an hour
for the body hem, mainly due to the fact that the brown wool sticks to itself like crazy, but it's so stretchy and lovely and without ribbing that it's totally worth it.
Now I've got 2 more similar handspun sweaters brewing in my head. It's too comfy and toasty not to want a few more!